| | | |
| --- | --- | --- |
| | 0 Members and 1 Guest are viewing this topic. | |
| | |
| --- | --- |
| Pages: [1] | |
| | |
| --- | --- |
| Author | Topic: Dachshunds wiith ears that stand up? (Read 1937 times) |
---
Worked with a nurse long time ago she swore up & down her father had a pure bred Dachshund with pricked up ears like a Dobe with cropped ears. She show me a picture the dog was a smooth Dachshund Red sure enough his ears stood up anyone ever heard of that before.????
Papbouv
Logged
---
I have never seen anything like that. Was that weird or what????

Darcel
Logged
---
Handle every "Situation" like a dog.
If you can't eat it or play with it,
tinkle on it and walk away.
---
Can you post the picture. It seems they may have altered the ears for whatever reason.
My Jack had one ear up, and one down, but I think that was bad breeding. It made him look rather endearing.

Logged
---
No picture this was a nurses father's dog who passed away several years ago I no longer work so cannot ask the nurse. I figured it was due to bad breeding or it really was not a purebred just past off as one. That happens sometimes know my sister thought she bought a purebred GSD when it grew up it was clearly not a purebred.My sister is not too dog savvy so being a puppy sometime hard to tell.
Logged
---

Dachsunds, being hounds, have "hound ears" which help funnel scents to their noses.  Dachshunds are considered both "sight" and "scent" hounds because they often use both (though not always).

If a doxie has a "straight up" ear, then I'm sorry to say, but I think somebody's mamma or grandmamma's got sum splaynin' to do!



Another dog could have sneaked in after the deed was done and tainted the line - five purebreds born, for example, and one or two mixed.  But since the litter is considered "pure" everyone is entitled to registration.

Remember the classic movie "Hootch" with Tom Hanks, at the end with all the collie puppies yapping and barking and one "Hootch" puppy in trouble?  "This is not your room."

LOL - I LOVED that film!



Karen
Logged
---
I'm 105 years old - cut me some slack!
---
Oscy has ears that sort of flop back.  Of course this is because Miss Buelah used to carry him around by his ears when he was a puppy.  I am serious when I say that any cartilidge that was originally there is seriously malformed now!  Of course, I think it makes him even MORE handsome... but I'm his mama!  Oscy is on the left in this picture.  I pushed them forward a bit for the photo but it gives you the general idea! As for altered ears? Just can't figure out why anyone would want to do that!

---

BoysResize.jpg

(86.69 KB, 480x640 - viewed 1596 times.)

Logged
---
Owned by Buelah,Oscy,Beatrice,and Bella
---
April has Cajsa, and her ears stand out like Dumbo, and its the cutest thing!!!
Logged
---
Rudy-angel had ears like Oscy, and if he held his head properly, they would appear to be "prick ears".

Zeke could never get away with that. He, by far, has the largest earspan of any dachshund I've come across, almost six inches wider than Max-angel's earspan, which was my standard for floppy ears until I met Zeke. He used to win "floppiest ears" in every Bow-Wow we used to have...it wasn't even a contest.


Logged
---
When I worked at an animal clinic we had a lady come in and swore she had a purebred Dachshund and it had pricked up ears too. And she got very mad when we suggested there must have been another male dog help with the breeding of her dog!!
Then there was a guy that came in with an English Bulldog with a long nose, he paid $1500.00 for that dog and the breeder said the nose would get shorter as the puppy got bigger....sucker born every minute.

Logged
---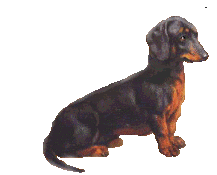 Whitney & her mom, Karen
---
Cajsa's ears stand up and I think they are in my avatar pic.  She is a purebred paper eligible and all, even though I never bothered with it since that's not important to me.  If my avatar pic doesn't show it I"ll try to find one that does.  Gretchen is her full blood sister/littermate and has the regular 'hound' ears.  Gretchie is floppy eared compared to Cajsa. 

ETA: Cajsa can actually control her ears. She has different levels of ear raising. The pic is "full bat", she also has 'half bat' - one ear up, one ear down, 'quarter bat' - ear half raised, other down. She can also turn them like RADAR ears to hear stuff. It's funny to see her do that.
« Last Edit: March 08, 2009, 05:18:01 PM by April »
Logged
---
owned by Gretchen, Cajsa and an Elf!  My three girls!
---
Pointed ears:

Pointed ears stay pointed regardless of how the dog holds its head. (Think of German Shepherd Dogs.)  They can flop down to the side, but they are still pointing.  They don't "tulip" or go to "Half-bat" as you say if a dog puts his or her nose to the ground.  If Cajsa is considered to have pointed ears when she is sniffing the ground, then she's a pointy-eared dachshund.

Guinness does the same "Bat Ears" with his when he is begging for food.  But as soon as he stops looking up, they fall into position.

Auntie Karen
Logged
---

AHEM . . . I may be retired, but I am always at your service!
---
Cajsa can do full bat even when sniffing the ground or asleep. I actually had to train them to flop over at all when she was a puppy. I just kept flipping them forward so they would cover her ear opening but I don't really think they would do it naturally.
Logged
---
owned by Gretchen, Cajsa and an Elf!  My three girls!
| | |
| --- | --- |
| Pages: [1] | |